This Floral Satin Gown & Diaphonous Net Skirt and Daring Lace Blouse is one of Lagana's eleven new ensembles for Cissy and 21" Alexander Maid Marion - - -  and these eleven are the last Cissy outfits Lagana will make ever!   This is two outfits in one as the net underskirt for the Floral Turquoise Satin Gown is just too pretty to be always underneath.  So with a lace top it is its own outfit.    $400.00 for all.  SOLD

The bead work in the shoes and purse took a day.  The purse has a mother-of-pearl bead button and inside Lagana's label. It's chain is gold, 14 K I believe.  The insoles are leather.  The shoes have Lagana's label on the bottom. Sold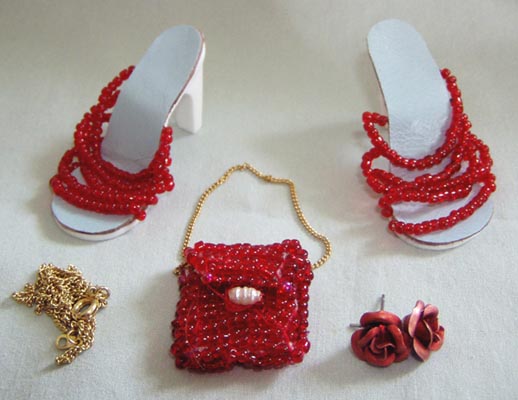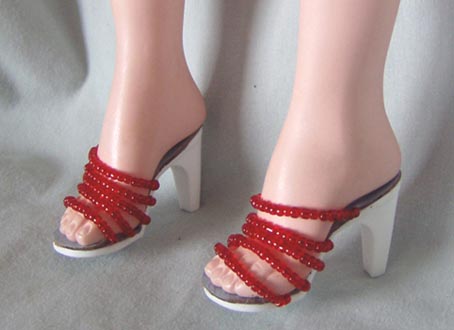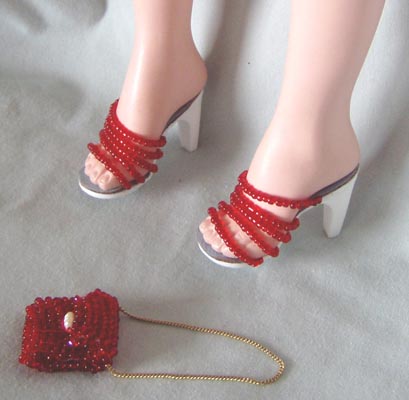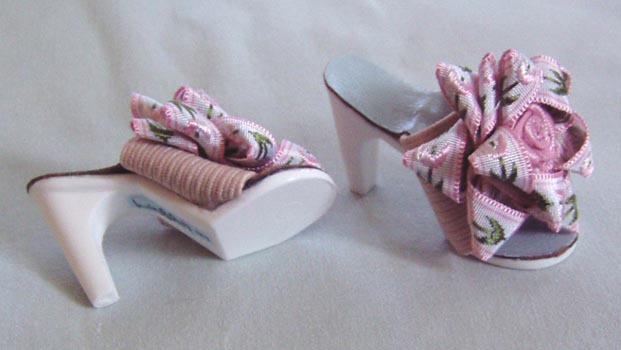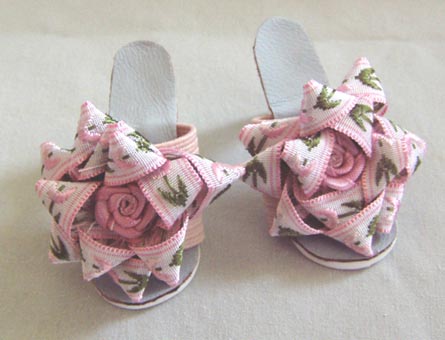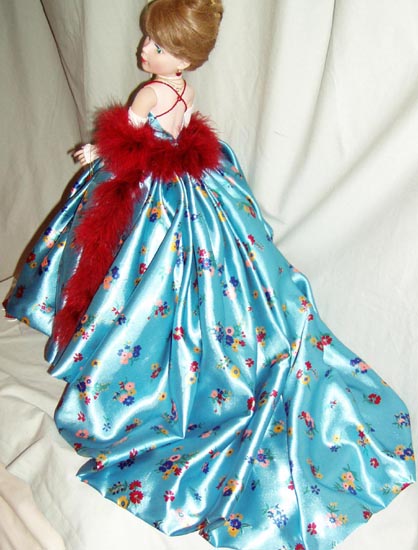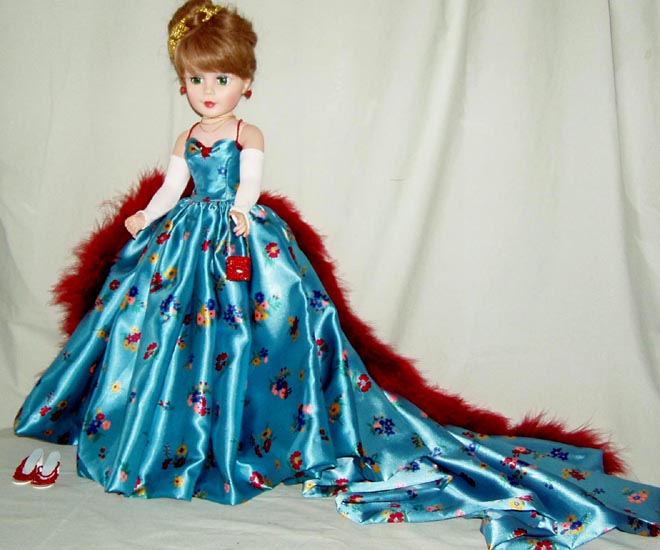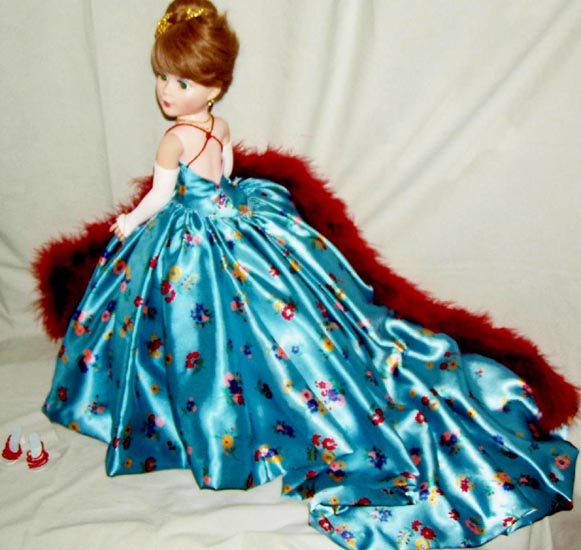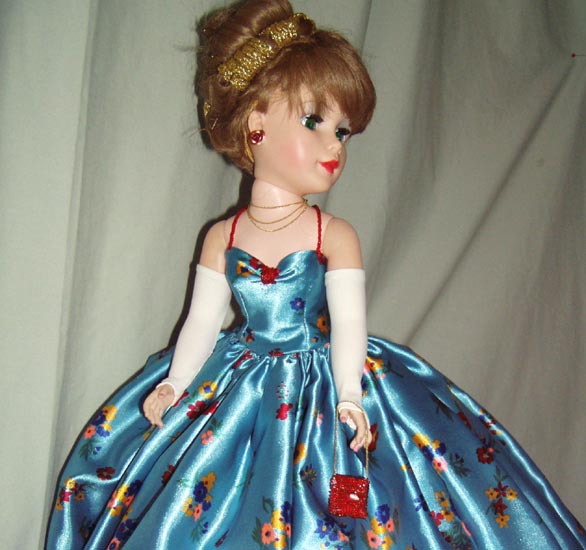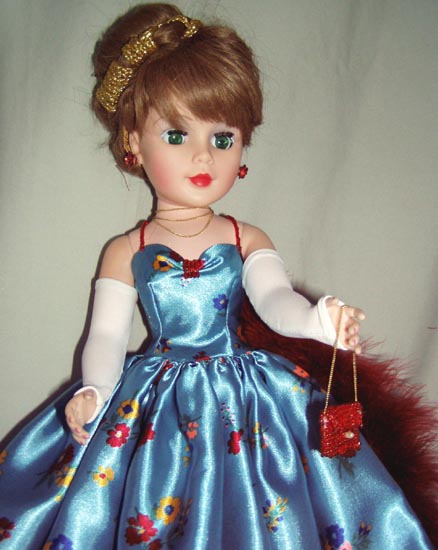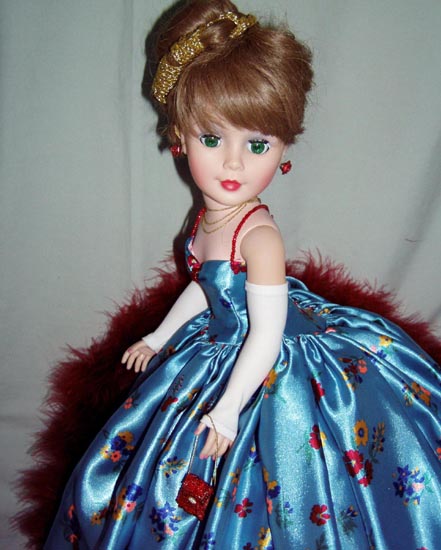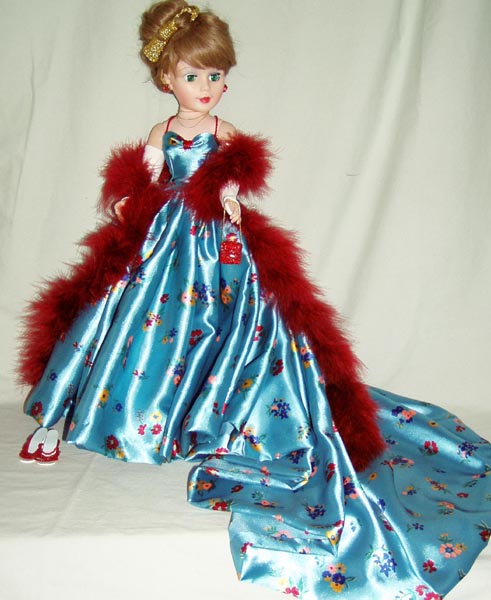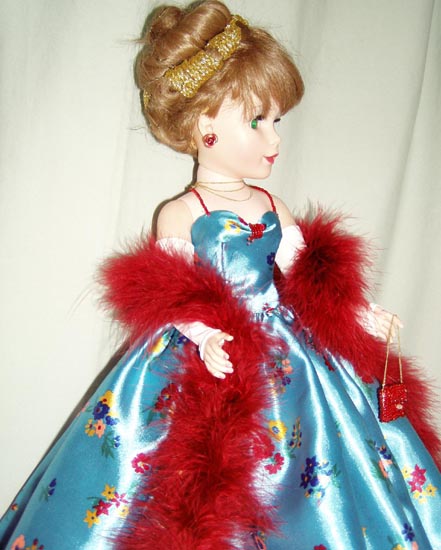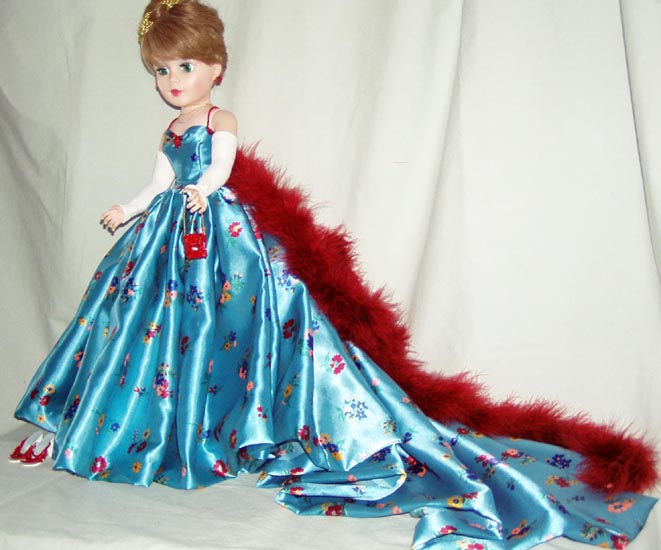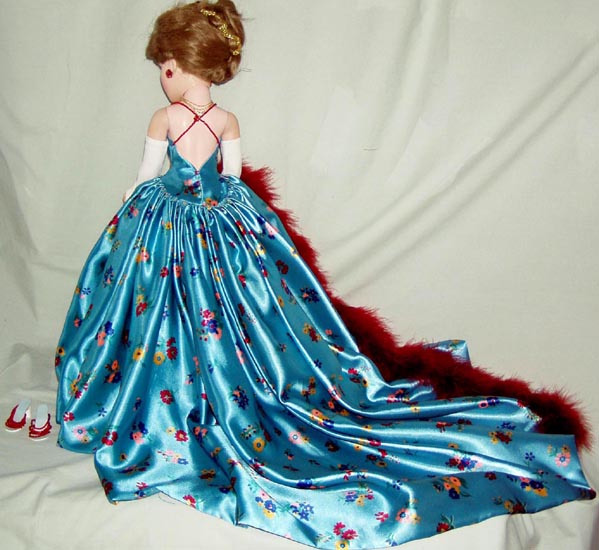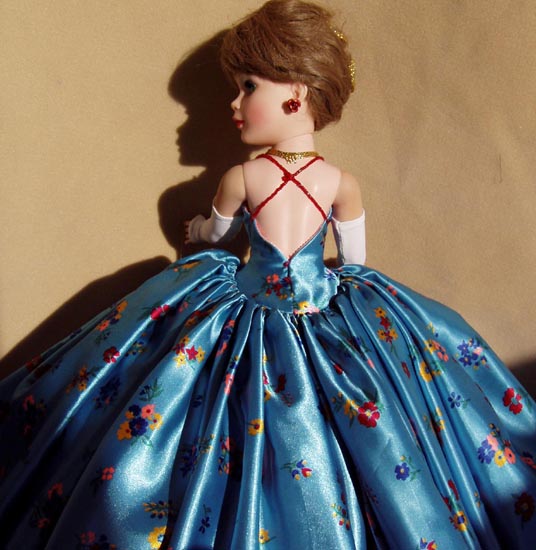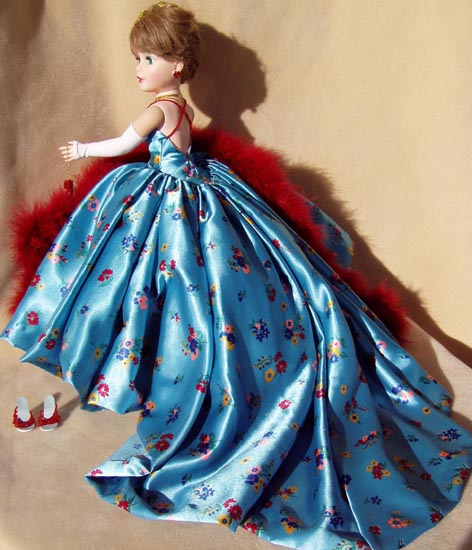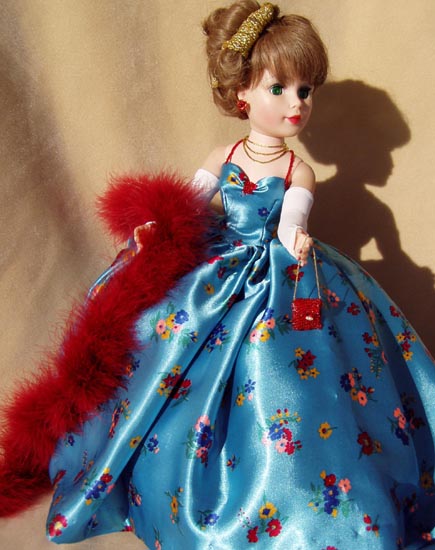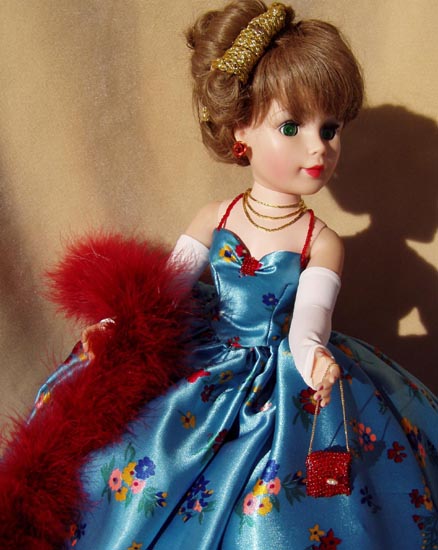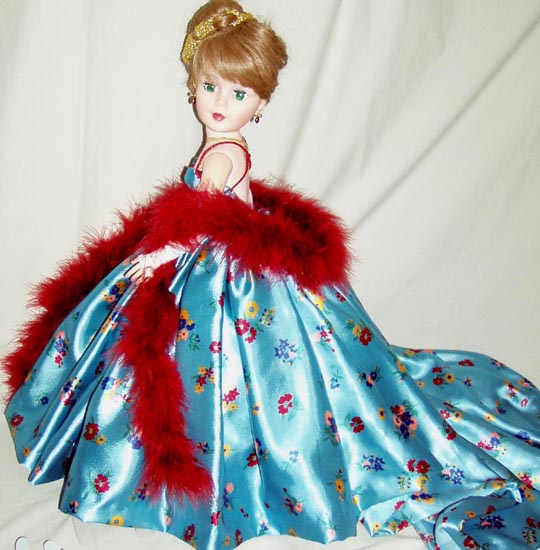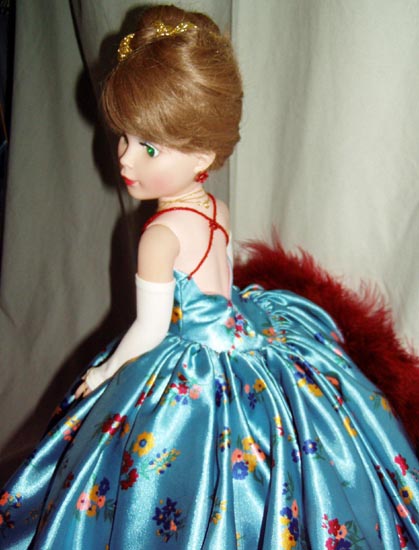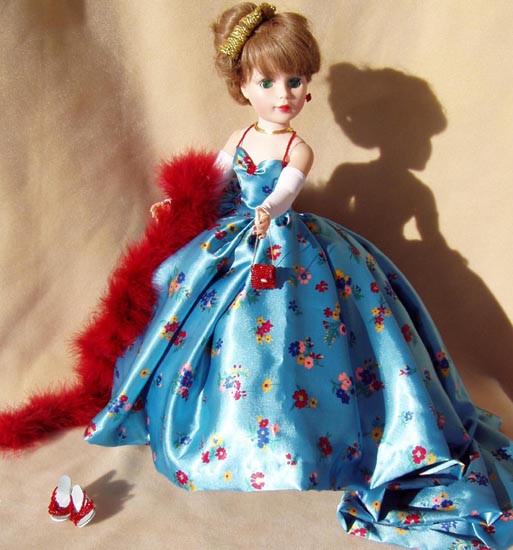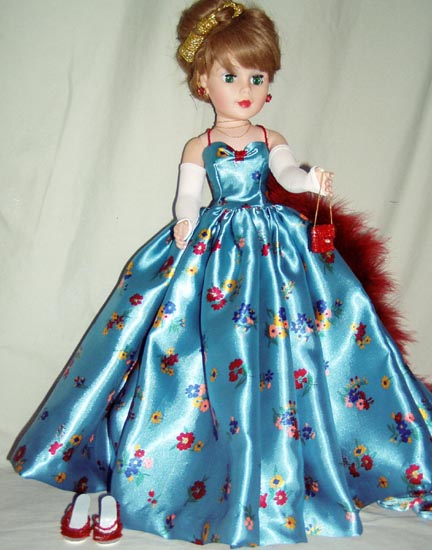 The red bead shoes from  Floral Satin Gown just didn't match the  Diaphonous Next Skirt and Daring Lace Blouse so a pair of pink floral slides were made.  These!  Their flowers are made from an antique trim.

This outfit would look beautiful spread on a bed.

Th ensemble includes:the Floral Satin Gown & Diaphonous Net Skirt and Daring Lace Blouse, on red beaded purse, one pair red bead shoes, one pair antique trim floral slides, one pair red rose earrings, (not the red "ruby" earrings shown in some pictures which come with Maid Marion), the red feather boa, a pair of white gloves, and, only if the ensemble goes for $400, the lighter 24 caret gold Thai necklace.  (Maid Marion models in two differerent gold necklaces.    The heavier one is not included.)  A picture below shows the necklace. .   Maid Marion's hair braid stays with Maid Marion.    Ensemble and dolls are sold.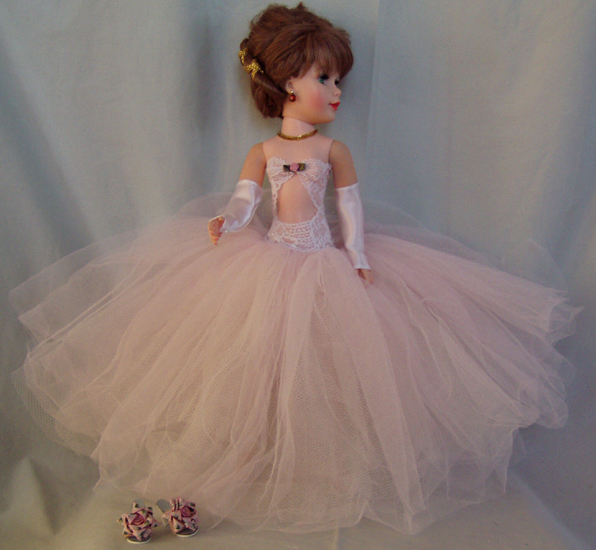 This Floral Satin Gown & Diaphonous Net Skirt and Daring Lace Blouse  are  two outfits in one as the net underskirt for the Floral Turquoise Satin Gown is just too pretty to be always underneath.  So with a lace top it is its own outfit.    SOLD


             poetry